Hatha yoga emphasises the breath – connecting the mind, body and breath together, to develop awareness, mindfulness and concentration. Yoga helps improve flexibility, strength, health and well-being to bring physical, mental, emotional and spiritual balance – simply being here and now, enjoying the peace and stillness within. Opening up the heart, mind and body through the postures and breathing techniques with joyous effort, will awaken us to our true nature, our full potential. Hatha yoga is for everybody. Let the joy of yoga bring about the changes you wish for, inside and out.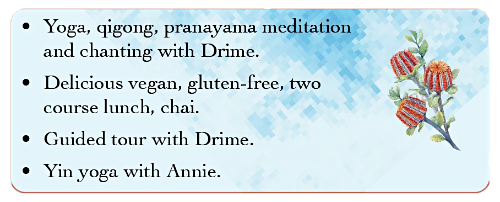 This workshop runs from 9:30am to 4:00pm

~ The cost of the workshop is $80.00 (lunch included) ~
(10% Members' discount)

Book the Workshop
Please bring your own yoga mat if possible!